Novozymes' new innovation campus in Lyngby, Denmark will be the company's global hub for research, development and education. NNE merged seamlessly with Novozymes' own organization to provide project management for this flagship project.
Novozymes' new innovation campus is in many ways an investment in the future. Once all phases have been completed, the campus will be the workplace for 2,500 Novozymes employees – or "Zymers" – providing space for future growth in Denmark. Initially, the campus will house 800 Zymers who will be relocated from Novozymes' existing facilities in Bagsværd, Denmark.
But the campus is much more than just additional square metres to house a growing organization. With the ambitious project, Novozymes is introducing new ways of working enhancing cooperation and innovation across functions.
Novozymes knew that they would need help from an external partner to run a project of this magnitude and complexity. At the same time, the company wanted to maintain full control of the project. Novozymes thus asked NNE to provide a project director to join the project organization as part of the internal user owner group.
One joint team = one joint success
The project is executed as a turnkey project with NCC as turnkey contractor, Rambøll as turnkey consultant (acting as sub-contractor to NCC), Vilhelm Lauritzen Arkitekter as architects, NIRAS as client consultant and Plesner as legal counsel. NNE is part of Novozymes' internal project management team, acting as "Zymers" on the customer side.
NNE's project director, Birgitte Fauerholm Saabye, was in charge of project management with overall responsibility for budget, time and execution strategy reporting directly to the project steering committee. This was only possible due to a strong and trust-based partnership with Novozymes and with Novozymes' project director, Pia Botting Degn, who – with her 19 years of experience in Novozymes – provided invaluable knowledge of Novozymes procedures and relevant stakeholders and experts.
"We have merged into a joint team with Novozymes, forming a strong project team that together has made sure that the project met the planned time and budget and the overall success criteria put forward by Novozymes' steering committee", says Birgitte Fauerholm Saabye.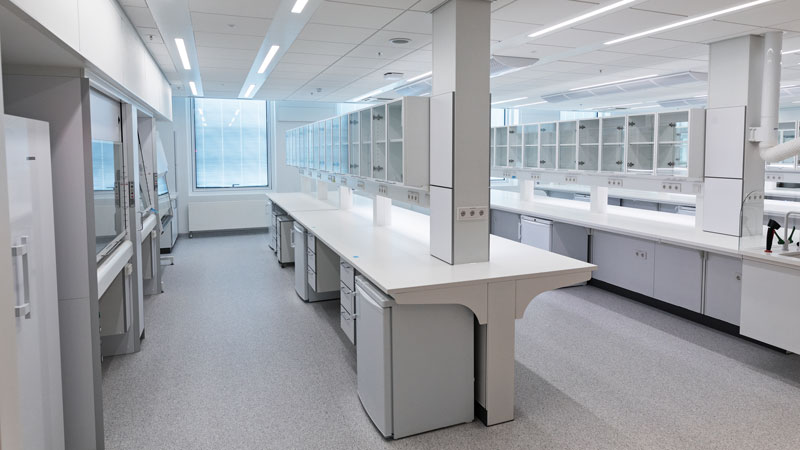 With our position inside the customer organization, NNE's role has thus stretched beyond the usual design, construction and validation support. We have provided stakeholder management and consulted Novozymes on the entire moving process and the significant change management task that comes with introducing a whole new way of working. In addition, NNE assisted in supervision, construction site safety, validation of autoclave and washing as well as laboratory control.
"Our own project manager group in Novozymes mostly has experience and competencies within construction of production related processes, so in a project of this type, this size and complexity we needed an external project director, says Flemming Funch, Vice President, Supply Engineering at Novozymes. "However," he says, "we would not give in on having full control of the project due to its importance. Therefore, the project director needed to act and have charge as a Zymer. This requires trust and close cooperation and has proven to be a very successful model in this project. At the same time, we have had the advantage of being able to draw upon other competences from NNE when needed."
The NNE project director needed to act and have charge as a Zymer. This requires trust and close cooperation and has proven to be a very successful model in this project."
But it is not only Novozymes who benefitted from this setup. Being an integral part of the customer team is a new way for NNE to utilize our core competences within project execution and it provides us with a unique opportunity to understand the customer's project perspective and success criteria in depth.
A learning environment for everyone
The innovation campus sits on a 140,000 m2 site. The first phase of construction entails a ~30,000 m2 site with room for 800 employees in research and development and other business areas. This provides sufficient space for Novozymes' operation needs until 2023.
The remaining ~100,000 m² area will be developed in future phases. Ultimately, the campus will include laboratories, offices and learning centre featuring teaching labs. The learning centre will provide opportunities for students and visitors to learn about nature and biology. The low-rise buildings will be surrounded by a park, which will be open to the public.
Fact box
Customer
Novozymes
Country
Denmark
Site
140,000 m2 (total site)
Project duration
October, 2015 – March, 2019
Services provided
Project management at the customer side