Novo Nordisk is investing DKK 2.1 billion in a new aseptic filling facility in Hillerød, Denmark. To ensure that the facility will be a robust investment for the future, flexible solutions and future-proof technologies are the central ingredients. NNE is providing all design and engineering services for the new facility.
Novo Nordisk's new greenfield filling and inspection facility, called APX, is intended to ensure production capacity for existing and future diabetes and obesity products. Therefore, a key success criterion for the new facility was the ability to accommodate future production needs, making flexibility a main objective throughout the project.
With APX, Novo Nordisk wants to ensure that we establish a production set-up that fulfills current and future expectations regarding compliance and product mix.
In close collaboration, NNE and Novo Nordisk designed the APX facility with this flexibility objective in mind. From the outset, the facility entails two high-volume filling lines, but has free space for a third filling line. This provides built-in flexibility for introducing new, currently unknown, products into the production.
For NNE project director, Torben Kløvborg-Laustsen and the team of engineers, building a new facility for a company like Novo Nordisk is a dream come true, "especially in a case like this, where we are integrating modern technology to ensure agile operations for Novo Nordisk," says Torben Kløvborg-Laustsen.
Future-proof solutions in every aspect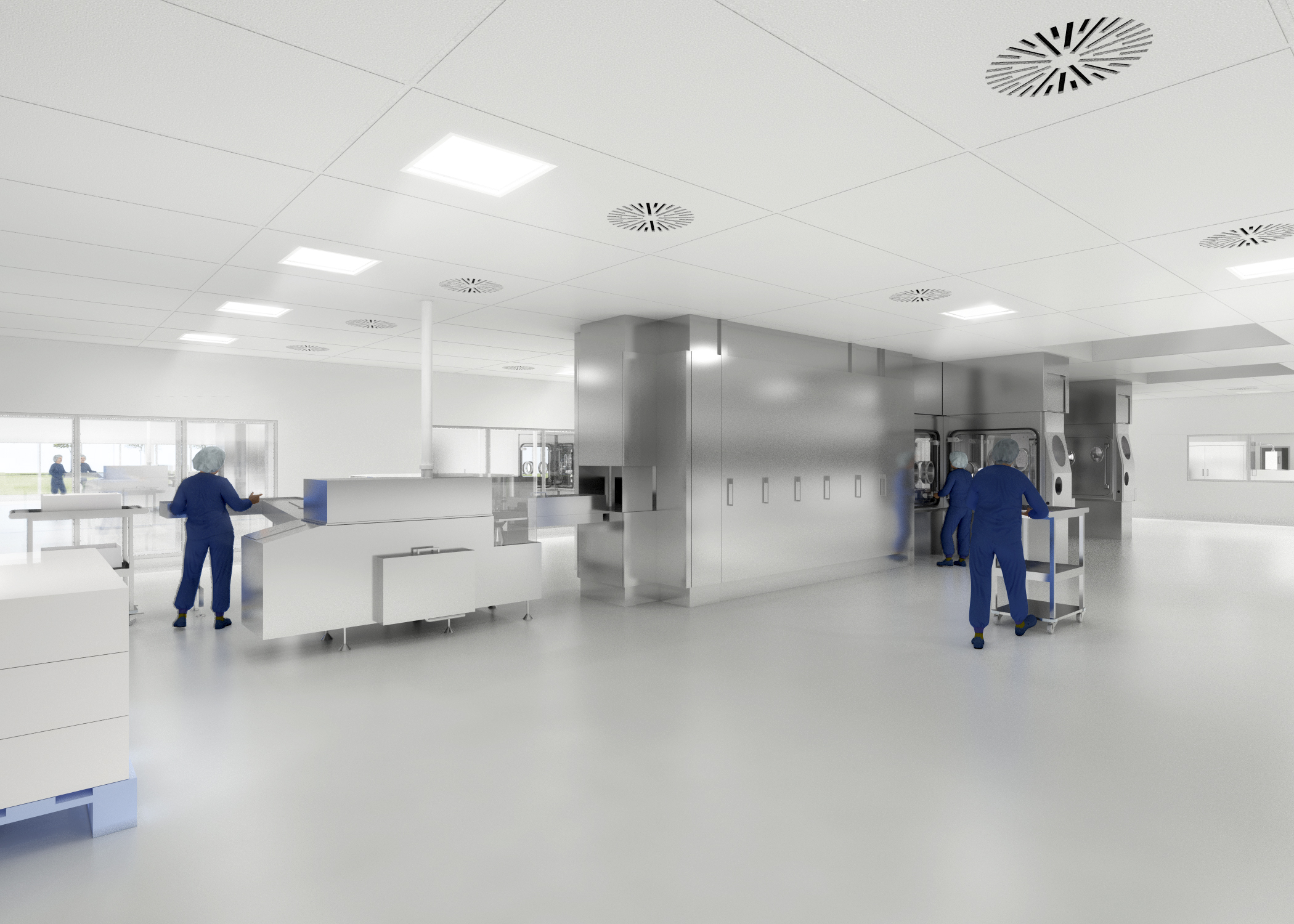 Another central focus of the project is the implementation of isolator technology, where the filling machines are placed in a closed container and operated from the outside via gloves. This technology is combined with closure processing equipment (CPE), which enables aseptic transfer of closure materials to the filling machine.
At the same time, Novo Nordisk had a specific request to apply mobile vessels in the formulation area. In this large-scale, multipurpose production facility, single-use technology is very important as it can eliminate CIP/SIP processes and achieve very flexible connections to the filling machine.
While the combination of single-use and isolator technology is known, it requires special attention in the project. Knowing this, NNE involved its top experts in these technologies early in the design process. "It is unique that we cover all of these technical disciplines and can utilize our global technology experts with experience from other pharmaceutical companies," says Torben Kløvborg-Laustsen, "Very few of our competitors can match this." Lars Holm Wæhrens, CVP at Novo Nordisk, adds, "Novo Nordisk's specific needs in terms of close collaboration has been an important factor in our decision to engage NNE as our engineering partner."
After completion of the basic design and early detailed design in the summer of 2015, ground-breaking for the new facility took place in early November 2015. The facility will be best-in-class with respect to functionality, quality, safety and compliance. And it will provide key lessons and best practices for future revamps of Novo Nordisk filling facilities worldwide.
Quick facts
Customer
Novo Nordisk
Country
Denmark
Facility/area
10,300 m2 footprint and approx. 30,000 m2 of floor space
Services provided
Conceptual design, basic design, early detailed design, EPCMV (engineering, procurement, construction management, validation) and automation integration
Total investment cost
USD 317 million