This ambitious Novo Nordisk project resulted in one of world's the largest biotech facilities and most advanced part 11-compliant automation systems at the time.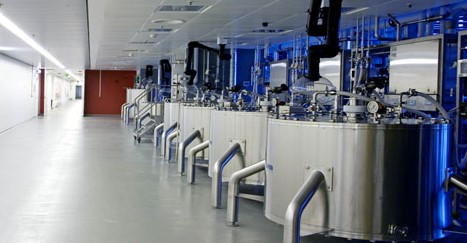 When Novo Nordisk wanted to build an approximately 35,000 m2 facility in Kalundborg, Denmark – including all the bulk production facilities for insulin – the company turned to NNE for a solution that could meet the requirements of this complex build.
A dedicated NNE team was responsible for all project phases, from the very first scale-up of the process to the completion of operational qualification. This included procuring and managing many prefabricated complete units, as well as performing detailed design and validation of other parts of the facility.
Major validation within a short timeframe
The project included a major validation effort as well as one of the largest and most advanced part 11-compliant automation systems in the world. There was also a demanding schedule: the first phase of the facility was operational – including operational qualification – two years after completion of the basic design, and the complete facility was handed over nine months later.
The end result met all of Novo Nordisk's quality, operability and safety objectives. And the project was awarded the Haden Freeman Award for Engineering Excellence by IChemE.
Quick facts
Customer
Novo Nordisk
Country
Denmark
Project duration
1999 –2003
Total investment cost
USD 336 million
Services provided
Conceptual design, basic design, detailed design, procurement support, construction management, installation management, commissioning supervision, testing, qualification