Ambition, curiosity and a life philosophy of taking any opportunity that comes her way, is what has lead Ima Mir to where she is today. On the occasion of Women in Engineering Day, she shares what drove her - and still drives her - to pursue the possibilities that the world of engineering has to offer.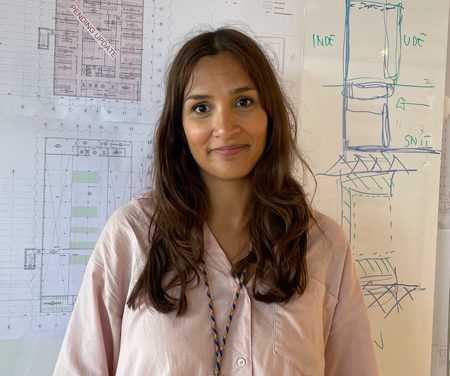 Why did you choose a career/education in engineering?
Within my culture and upbringing, it's very normal for immigrant parents to expect their children to take a higher education. We're blessed that it's free in Denmark, so I saw that as a great opportunity to push my limits.
It was a coincidence that I chose engineering. I always liked numbers and math, and I thought for long time that I was going to study statistics, until I saw a brochure from DTU about electrical engineering. It talked about robots and satellites and I just thought that sounded fun and like a great challenge and I was sure that I would never be bored.
What inspires you about engineering?
Engineering offers endless possibilities – you can end up anywhere. Also, if you are a math and numbers person like I am, engineering is great, because you can put those numbers into something practical and tangible and really make a difference through your work.
How did you get to where you are today?
During my studies I got into the chemical and refining industry through a student job and I stayed there for some years after I graduated where I travelled the world. I ended up in sales, because I thought it would be insightful to get the customer and contractual perspective in my work. Then I spent two years at a power plant company, where I got to develop my skills.
I made the switch to NNE in 2018, because I was ready to apply my skills and competences in a whole new industry. And I liked the thought of contributing to building and optimizing facilities that produce medicines which helps people around the world. I started as an instrumentation engineer working in project teams for different customers. Afterwards, I was asked if I wanted to be a consultant in a new department focusing on operational excellence, which I said yes to. And then I was offered my current position as manager for the instrumentation department.
I am a strong believer in working hard and with a high level of clout you can embrace the opportunities that arise. I have never been limited or too focused on a specific path or a specific career goal.
I am a strong believer in working hard and with a high level of clout you can embrace the opportunities that arise. I have never been limited or too focused on a specific path or a specific career goal.
What is the most exciting thing about your job?
Not one day is the same. Even though, as a manager, I of course have recurring weekly meetings, they evolve around different challenges and topics every time. My job is a great mix of interacting with a lot of different people, making sure the "machinery" is in motion and contributing to drive technological development. There might be a framework that I have to "fit into" but I have the freedom to set my own agenda within that framework.
What does a typical day in your job involve?
Well, I don't know if there is a "typical day", but for sure there are some things which is always on my mind, e.g. making sure all my employees are happy and thriving, trying to stay on top of what goes on around the office and in NNE, figuring out how my team and I can help support our strategy or how we can do things differently to optimize processes or serve our customers better. There is a lot of teamwork and collaboration both within the department, across department and of course in customer projects. One of my key tasks is to make sure all interests and opinions are accommodated somehow and that everyone works towards the same common goal.
What would you say to girls in school/college who may be considering Engineering as a career choice/study option?
First, I would say "You have the power to achieve anything you want.", regardless of your background and gender. If you are curious, dedicated and open-minded, you can go exactly where you want to go. And a degree in engineering is an ideal and practical foundation, because it can lead in so many directions. You are not locked into a specific type of job. Also, in engineering you have a chance to challenge yourself and societal status quo.
Bio
Educational background
M.Sc. EE, automation and robot technology
Tehnical University of Denmark, 2011
B. Sc.electrical engineering
Tehnical University of Denmark, 2009
NNE history
Manager, Instrumentation
Jan. 2021 - ongoing
Operational Excellence Consultant
Jan. 2020 - Jan. 2021
Electrical and Instrumentation Engineer
Jan. 2018 - Jan. 2020
Instrumentation at NNE
NNE's Instrumentation department comprise around 40 instrumentation, process and electrical engineers and technicians. They advice our customers within ATEX installations, functional safety, predicted maintenance and automation solutions.