For Céline Gouré Dyhrberg, becoming a mechanical engineer was a dream come true. But not one that came easily. Céline's dedication, resilience and her mission to prove wrong anyone who told her "you can't" make her a true inspiration. Here's her story.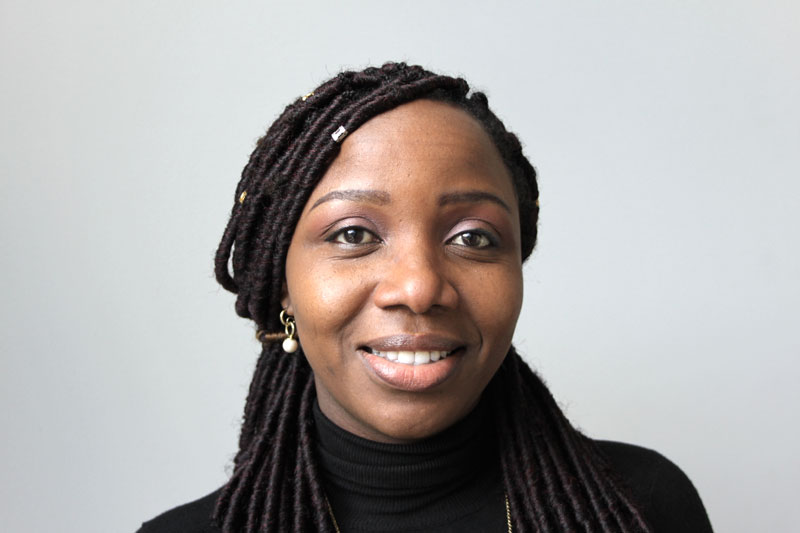 I was born and raised in Ivory Coast - a tropical French colony in West Africa – and had a fantastic childhood with loving and caring people around me, including my dear late my grand-mother, who was my primary care giver because my mom has to go to school. In my twenties I felt in love with a young guy living in Denmark and after one year of dating, we decided to live together there.
When I moved to Denmark in 2002, I only spoke fluent French and any time I opened my mouth to pronounce some English words, it was a disaster. The pronunciation was so French. I started Danish classes alongside my first job as a cleaning lady. My second job was as a sales assistant at DSB and meeting different people helped me to improve my Danish and challenge myself. My third job was as a canteen worker because I thought "I love cooking so why not try to work with food?". My fourth job was as a care giver in Gentofte Municipality because I love to take care of old people, maybe because of my grandmother that I did not have any chance to see become old. For me in this way, I could give back what I have received so much before.
But all of this - the efforts to learn, develop and build relationships - I did because I wanted to find an education that would challenge me. A friend of mine who was an engineer was so positive and doing well, he inspired me.
The biggest obstacle is yourself
But so many negative people around me started convincing me that I could not become an engineer because I didn't speak Danish nor English very well. So many peoplehad already tried and failed, so I could not make it either. And even if I was lucky enough to graduate as an engineer, I would not get a job.
Of course, I was worried because I knew some of the people they were talking about. But at the same time, I thought "How can you be sure you can't do something if you haven't tried it?" A wise man told me once that your biggest discourager is yourself. Not others.

Instead of listening to those negative voices, I asked myself "How can I find the resources to prove them wrong? What would be your winning strategy?". So I showed up at the University to talk to the Principal and ask for advice.
..."Instead of listening to those negative voices I asked myself "How can I find the resources to prove them wrong? What would be your winning strategy?"
In 2009, I left my job as a canteen worker and started foundation classes in Danish, English, mathematics, chemistry and physics. I loved it. This was what I needed. I challenged my fears and everything at school went really well. I loved going there, and all my problems were gone as soon as I entered the school grounds. It was magical. I was very good at maths, and I loved to share and help my younger classmates who did not understand. It was clear for me that I couldn't be anything else other than a Mechanical Engineer.
But my relationship was even more challenged because my husband didn't want me to become an engineer, he wanted to be to continue as a healthcare worker or a cleaning lady. Ultimately, we separated and I moved into a new place with my daughter, working every single weekend in Gentofte as a healthcare giver for old people alongside my studies.
Living the dream
I dreamed so much of getting my degree as a Mechanical Engineer and I finally become one in January 2014 after so many years of hard work. It was amazing, I never gave up, not for a single day. That's why I can say loudly: When you are dedicated and willing to work hard, you can achieve anything you want to accomplish. And prove them wrong. If I can take this challenging education as a single mom and with a job every weekend, anyone can do it. You just need to be willing to work hard and push yourself.
In doing this, I can see how powerful education really is, because today I work at this wonderful place with good people around me. Engineering for me is all about people and making their lives easier. I am happy to be a small part of that, and so grateful for what I have, that most of the time, I dress up going to work. I had a colleague who once asked me if I was going to a party, I just told him, "No, just going to work". So every day is really a present for me and I do not wait for tomorrow to express it.
Bio
Educational background
B. Sc. Mechanial Engineering, DTU, 2014
Marketing and Management
NNE history
Lead for specification of mechanical components
ongoing
Mechanical Engineer
2014 - ongoing
Mechanical at NNE
NNE's Mechanical department consists of around 70 colleagues divided across our offices in Virum and Kalundborg. They do piping design, component specification, equipment specification and selection of steel material and elastomere material.