Jesper Levi Hemmingsen joined NNE in 2015 as process automation engineer, but quickly advanced to senior engineer. Coming from a job in a waste management company, the pharma engineering industry was a whole new world for Jesper. But he hasn't regretted for a second that he made the switch. Read on to find out why.
What is it like to be a process automation engineer within pharma?
In the world of pharma, you spend a lot of time documenting what you do. Thus, if you are to thrive in this industry, you have to enjoy structure and that things are controlled. Coming from an industry with little or no control that was a huge change for me – but a welcome one. In pharma, everything is documented and all changes are registered which means that there is much less uncertainty. You don't have to start over when you need to update a piece of equipment, for instance, because you have documentation for how it works and why.
What is the best thing about your job?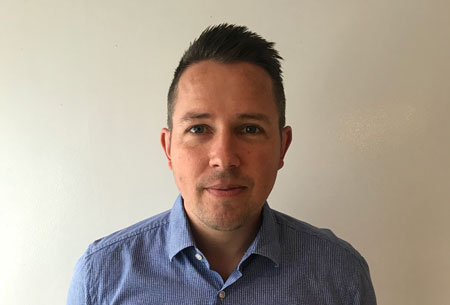 I really enjoy working in a project-driven environment. It offers a lot of variety and while the projects might be fundamentally the same, the details in each project can be widely different. Having a deadline really motivates me to perform better. It is hard work in those peak periods with short deadlines, but as long as you can see the finish line, it's also the most exciting periods.
The most challenging part of my job – and also the most fun part – is that you have to work out complex solutions that require insight into all disciplines. It's not enough that I know a lot about automation. I need to understand mechanical, process and electrical as well in order to solve the issue and reach a holistic solution.
I have taken some of the internal courses that NNE offers in order to build knowledge within for instance closed processes and API production and get that cross-disciplinary understanding.
What does it take to be a lead engineer?
As a lead engineer, you are involved in planning the different phases of the project in terms of time and resources. In connection with shutdown projects, for instance, which typically have a short deadline, I am responsible for planning how we solve the different challenges and ultimately meet the deadline. It requires a lot of coordination skills and insight into the different disciplines. You are kind of a "light version" of a project manager, you can say.
As such, it's a great stepping stone for becoming a project manager. But I could also choose to become a specialist and take more of a consultative role. Right now, I am really happy about the lead role, where I am close to where the action is. I think it's really fun and interesting to find out how a specific piece of equipment works – and if it doesn't, figuring out why that is.
What is your favourite moment?
I was part of a project that included installing a new utensil washer. When we tested it, it didn't work optimally. So, we initiated a cross-disciplinary troubleshooting process, investigating potential issues from an automation perspective, a mechanical perspective and so on. When we finally found and solved the problem, it was a fantastic moment.
One of the great things about working at NNE, is that everyone who works, does so because it's fun and NOT just to put food on the table. It's clear that everyone thrives in this sometimes hectic environment.