Here at NNE, we really believe in co-creation and workshops. They are an ideal way for us to collaborate on projects and initiatives that require input and expertise from the wealth of different engineering disciplines we have in-house – and that cross-disciplinary collaboration is key to creating robust solutions for our customers.
Last week, we had yet another workshop planned with the headline "Pharma facility of the future". The purpose of the workshop was to do a joint brainstorm session to generate ideas and insight on what the pharma facility of the future looks like from the perspectives of process, architecture, technology, GMP compliance, sustainability, lean execution and everything in between.
But Corona pulled the handbrake on our plans to meet for a face-to-face brainstorm – as it did to everyone else's - and we were forced to think fast in alternative solutions. With all participants now working from their own private "offices" at home, we decided to split up the planned four-hour face-to-face workshop into two focused online sessions with some homework in between. We set up a team "hub" in our internal collaboration tool for the participants and created folders with relevant material.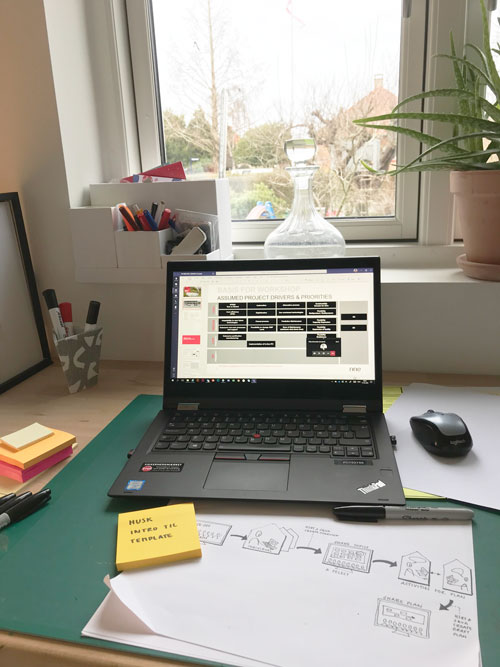 The first workshop took place 24 hours after the original workshop was planned. We did a one-hour introduction and kick-off which included:
Welcome slide: Intention, desired outcome, agenda, roles, time for the two sessions
Introduction slides (as visual as possible) to support setting the scene and scope
Introduction to individual homework after the workshop (template to fill out with topic ideas)
Walk-through an example of a topic template
Instruction online on how to find and save the templates
Q & A
For homework, each participant was asked to brainstorm and fill out as many topic templates as they wanted and upload it to the designated shared folder. The facilitators collected all the templates and prepared a summarizing overview slide of all the incoming topic templates.
The second workshop took place 1 workday after the first one. This was a one-hour and 15 min session where the facilitators shared the essence of the topics/ideas with the participants. Originally, we had also planned to prioritize the topics/ideas, but we decided not to do that in plenum, because the overview and templates turned out to be excellent and sufficient at this stage for the project owner.
All in all, the workshop was a huge success – not only in terms of the high value output, generated effectively in a very short time, but also in terms of testing our agility in working methods, our ability to come up with alternative solutions fast and the many learnings we can now apply in future workshops – both internal and with customers.
Here's a few take-aways from the workshop:
Well done to the organizers for seeing and creating the opportunity to work in new ways, not losing momentum and maintaining deliver-to-promise. And to my fellow participants as well - it required some adjusting and discipline. Let us do it again!"
We want to praise all the participants and contributors for jumping into the new format with us. This is not the last time we will try this. We managed to generate an excellent output and we learned a lot, together, in a very short time. We will definitely use these learnings going forward - also for workshops with customers."
Our tips for best tips for online workshops:
Descriptive, visual slides arranged in a logical flow really help you (and also support the participants understanding) to get the message through
Planning is crucial, especially if you are more than one facilitator/host – it is much easier to improvise when you agree what the initial plan was
As facilitator, be prepared to spend more time for preparation in between sessions to create the overview of ideas and conclusions on behalf of everyone
If possible, ask participants to join by video, especially for discussions – it is valuable to be able to see the participants' and co-facilitators' reactions, and supports the facilitation of participants' verbal input