Lead engineer of Finished Products, Rene Ohms, loves his work so much, he can't believe that he actually gets paid to do it.
How did you start working in pharma engineering?
I began at NNE as a consultant. Very often with this kind of position, you find solutions and work with validation and qualifications, but you wonder how the project is functioning after handover. That is why I switched to a job in production. But after fighting production issues for nearly 17 years, I realized that my heart beats for project work. When I got the chance to serve as an engineer for Finished Products and Medical Devices, I did not hesitate.
I enjoy problem-solving and finding solutions. I like the challenge of truly fixing something, rather than finding a work-around solution that looks good on paper. When I work, sometimes I feel like a detective, looking for solutions to complex issues. I could talk for hours about my work. I know my colleagues feel the same.
What are your main tasks at NNE?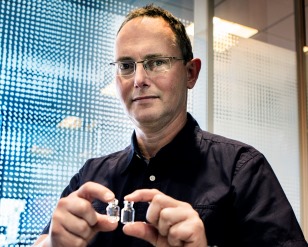 The name of my department – Finished Products and Medical Devices – describes the two areas we cover. My area, Finished Products, deals with active ingredients transferred into medicine and filled into small bottles. The field of medical devices, on the other hand, encompasses a system aiding the injection of the medicine.
Currently, I am part of an enormous project with over a hundred of my colleagues at NNE. I usually work on one or two projects simultaneously, but anyone in this position needs to be prepared to handle three or four at a time. It requires a certain balance to jump between projects, particularly because they can be in a different language, or situated in a different culture. You must be able to multitask and communicate across projects. Sometimes, this job can be as much as 60% communication. While your skills as a technician are your "license to operate", your communications skills are what ensure the right future-proof solutions for the customer on time and within the budget.
What do you love about being an engineer?
I love my job because I know it is the right fit for me. Based on my experience in project management and production, I know all of the correct terminology, and have experienced and found a number of solutions.
Knowing that I truly contribute to the company is very rewarding. I have said it before, but if I had to pay to get this job, I would. This is a fun place to work – I am surrounded by the best in the industry. You stay at NNE if you want the best and most challenging tasks.