At NNE, interns are an integral and important part of our organization. We highly value the knowledge and fresh perspectives that interns bring to our company and we strive to make sure that an internship at NNE becomes a springboard for your engineering career. We asked one of our former interns, Christine Gleie, to describe her journey from student and intern to her newest title as junior process engineer at NNE.
First time I heard about NNE was through my education, where I have attended several lectures by NNE employees. Through this I found NNE incredibly exciting, as I am passionate about optimizing and designing existing and brand new facilities from start to finish. When NNE looked for an intern for their process design area, I saw an opportunity to learn and develop my professional skills.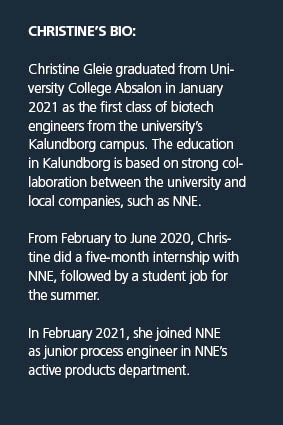 During the internship, I had the opportunity to get involved in various projects with insights into both the conceptual, basic and detailed design phases. I had the opportunity to work independently as well as interdisciplinary, which helped me to create a network. In the period I have supported with process module diagrams, process flow diagrams, red-marking of piping and instrumentation diagrams, cleaning-in-place/sterilization-in-place routes and cartoons, line sizing, drain rationale and project descriptions.
It was really cool to meet all the great colleagues and having the opportunity to be involved in not only one project but several projects. In this way I got an insight into the many different tasks and projects NNE works with. Through the different projects, I worked with the same type of tasks – although they had to be solved differently.
Through the different projects, I worked with the same type of tasks – although they had to be solved differently.
For me it is rewarding to be in close cooperation with a high level of different specialists which provides a broad network and an opportunity to develop and become stronger in the pharma industry. So, when the opportunity to stay on board arose, I grabbed it. My first assignment as a junior engineer will be to optimize cleaning gaps in a process to ensure compliance with the high-level cleaning requirements. Concretely, I will be responsible for red-marking changes in the piping and instrumentation diagrams.
Welcome to two new interns
At the same day, where Christine joined as junior engineer, we welcomed two new interns in the Active Products department, Karoline Schousboe from University of Southern Denmark and Alicia Yichun García García from University College Absalon.
What made you choose NNE for your internship?
Karoline: I have always been interested in the pharma industry, and also wanted to explore process engineering as a potential career path. Therefore, I found that NNE would be a great place to combine the two things. I had a very good experience during the interview process. I was able to come and see the facility and really liked the vibe I got from NNE and the people I talked to.
Alicia: I chose NNE for my internship because I thought it would greatly complement my education, in engineering in biotechnology, by allowing me to experience processes and projects in an industrial scale, outside of the university environment. Furthermore, I hoped to work in an interdisciplinary team, collaborating with people specialized in different areas, while still participating in projects related to pharma, which is connected to my bachelor's degree. NNE was ideal for this, and the location in Kalundborg with the industrial symbiosis was further motivation.
What do you expect from your internship at NNE?
Karoline: I expect to learn a lot from experienced engineers that I cannot learn in university classes. I also expect to gain some work experience and learn new skills, both technical and interpersonal.
Alicia: My expectations for this internship are to put into practice the knowledge and skills I have already learnt at the university, expand them, and acquire and improve new ones. I am interested in seeing how a project is designed, planned and how tasks are coordinated between teams. Moreover, I am optimistic I will have the opportunity to contribute in different stages of projects, gain confidence in my abilities and have a broader view of what I can do when I finish my degree.
What are you looking forward to the most?
Karoline: Seeing how the things I have read and learnt about look and work in real life and getting to work on actual projects and see them develop instead of delivering a theoretical report to a professor. I also look forward to getting to know a lot of new people – hopefully we will be able to work full time in the office at some point.
Alicia: I look forward to developing competences which will be useful in my future, meeting experienced engineers and learning from them. I would also like to be familiarized with programs and instruments used in professional settings, which will contribute to a complete and well-rounded education.