Jakob Zoffmann Petersen can bake a mean cake, but now he works as a senior quality engineer in Quality & Validation. Read why he finds quality and validation so interesting, and the challenging environment around him so intriguing.
What is so great about a job in pharma engineering?
For me, the pharma business is the most exciting consulting business to be in. I sense the overall responsibility for someone's health. I feel pride that I am a part of a company that helps others make life-saving drugs and solutions.
As a senior quality engineer in Quality & Validation, I try to get to know the customer so that I truly understand their needs. If they present something with which I am unfamiliar, I can look to my department of about 65 people of different backgrounds and experiences for their suggestions and input. When I ask everyone for help, I can get a reply within the hour for the customer. There are some highly specialized people here from different backgrounds. For example, I'm a trained baker – but my colleagues don't know that until I bring a cake into the office! Of course, I was further educated as a process engineer before my employment in NNE.
These different levels of specialization and huge network of knowledge are actually what makes NNE stand out and the reason why I work here. The company is special in that it has an extremely high level of knowledge. I find that NNE is unique in this regard. We use the combined knowledge of our department. In the past, when a customer asked me something for which I had no solution, I had to seek out the solution myself and commit a lot of time into researching that. Now, at NNE, I can just take the question back to my qualified and knowledgeable team and get a reply to the customer within the hour. Even with the support of my knowledgeable colleagues, I embrace the challenge to find solutions for my customers. I need a challenge to keep on my toes.
What is it like to work in quality and validation?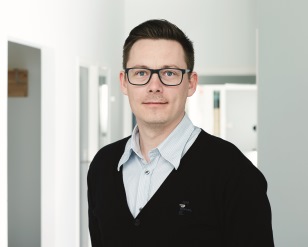 When people hear the words "quality and validation," they might think it's very boring, but I assure you it is anything but. Documentation does not mean exclusively "documents". It means coordination. It means research. For example, if you have to create a document explaining how to test a freeze dryer, you really have to know that freeze dryer. So for instance, we must pre-test the freeze dryer at the manufacturer. You must have process understanding. The document controls everything, but we must understand what we are doing and why to create the document.
A general customer need I face often is, of course, documentation. But this term means so much more than a collection of papers. They need coordination. They need us to coordinate projects and find out what they require in order to begin with construction. We help them coordinate their own efforts. They know what they want, but not how to acquire that – it is our task to solve that.
The reception I felt when I first joined NNE was so warm. I felt right at home. The department is so positive with high morale. Our department is very good at meeting privately and at management-coordinated events so we have a great sense of camaraderie. We run together, attend seminars and have dinner in the city. We always have a lot of fun, proving once again that quality and validation is an interesting and exciting field in which to work.