Operational excellence
Take your production to the next level
The pharma manufacturing industry needs new and innovative ways to deliver more output, lower costs and increase sustainability. But knowing where to start or how to do this in the best possible way can be tough. How can our operational excellence team help?
Depending on your challenge, we utilise Design Sprints and our unique pharma manufacturing knowledge to help you piece together the right solution, link you to the right service and unlock huge business potential. This could include:
- Improving energy efficiency to help you reach sustainability goals
- Lowering Quality Control costs
- Lowering Full Manufacturing Cost per Unit (FMCU)
- Improving Overall Equipment Efficiency (OEE)
- Increasing data efficiency
Helping you reach operational excellence with design sprints
The core of operational excellence is finding tailored solutions to your problems, helping you get the most out of your production. Design sprints (a methodology created by Google Ventures) are a fast and intense process for developing solution ideas, testing and learning in just five days.
By working together in a sprint, we shortcut the endless-debate cycle and compress months of time into a single week. Instead of waiting to launch a minimal product to understand if an idea is any good, we get clear data from a realistic prototype. Put simply, we fast-forward into the future to see a finished product before you make any expensive commitments.
What is design thinking and how can it help with pharma manufacturing?
Due to the complicated nature of pharma manufacturing and its ever-changing landscape, challenges related to productivity and utilization inevitably arise. Finding solutions to these challenges, therefore, requires innovative and creative thinking. To help our customers achieve operational excellence, we frequently combine design thinking and design sprint methodologies.
Design thinking is a systematic, customer-centered approach that builds creativity directly into development processes. It describes an iterative process that employs unique and creative techniques to yield results — usually results that exceed initial expectations. The 6 typical stages of the design thinking process are as follows: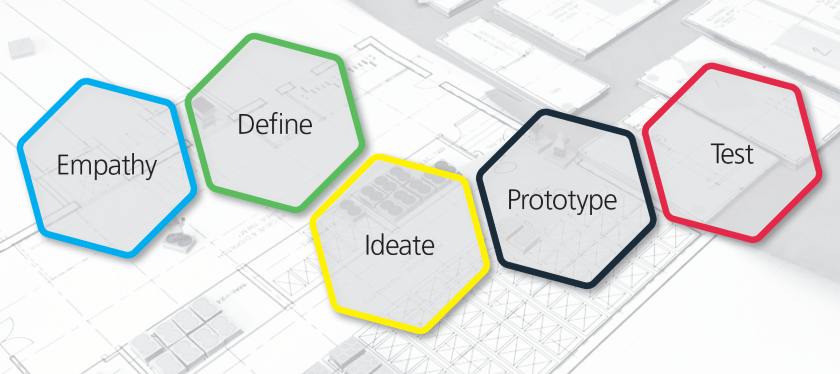 I usually think of NNE as a company we call when we know what the task is. I had no idea that you could help define the problem and create potential solutions."